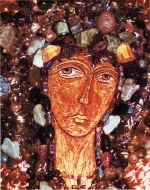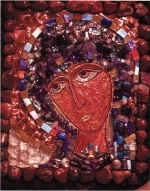 Blue Madonna Rainbow Madonna
In addition to teaching and writing, Steve Georgiou creates icons in a style he has termed
"Neo-Byzantine Folk Art".
Examples from his "Faces of Mary" collection are featured above.
Note: View larger icon images by clicking on them.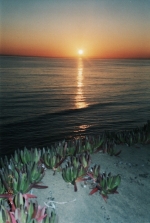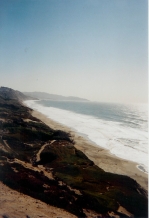 This artistic genre primarily makes use of natural objects (wood, shells, stones, glass, metal) found along San Francisco's lengthy Ocean Beach (seen in the opposite photos) which Georgiou regularly frequents. These "organic icons" emphasize the Biblical declaration, "Ever since the creation of the world, God's invisible nature, namely his eternal power and deity, has been clearly perceived throughout the cosmos--in all things that have been made"
(Romans 1.20).
S.T. Georgiou's work is on display at the Annunciation Greek Orthodox Cathedral in San Francisco, the Santa Sabina Center in San Rafael, California, and at the Dominican School of Philosophy and Theology in Berkeley.
If you are interested in purchasing or commissioning an icon, please send an
E-Mail
.