(285 pages, 32 color photos). Novalis, 2003. The 1st edition is no longer in print.


Reprinted (expanded edition) by
Templegate Publishers
, November 2010, ISBN: 978-087243-273-4 Available for $16.95
In 1993 the author journeyed to the remote Greek isle of Patmos (where St. John wrote the Revelation) on a spiritual retreat. By chance he met an elderly hermit-poet named Robert Lax, the best friend of Thomas Merton and a major American poet who had made Patmos his home since 1964.
The Way of the Dreamcatcher relates the story of the unique friendship and student-mentor relationship that developed between Georgiou and Lax. Areas of focus include art, faith, spirit, and commitment. The book reveals an unprecedented and fascinating description of the man Thomas Merton said, "was born with the deepest sense of who God was" (see Merton, Seven Storey Mountain) and who Jack Kerouac once described as a "strange wonderful laughing Buddha" (Kerouac, The Selected Letters: 1957-1969).

"Lax and Georgiou are truly kindred spirits. They seem to understand one another intuitively and breathe forth wonderful insights into the questions that confront us all. Through this warm, inspiring book, we journey with Georgiou to the holy isle of Patmos and visit Lax in his rustic hilltop hermitage. We learn and laugh with Merton's closest friend, a poet numerous authors have affectionately termed "a saint."
- Br. Patrick Hart, O.C.S.O. Last Secretary to Thomas Merton
"The Way of the Dreamcatcher is a gem of a book---it's true subject is holiness."
- Kathleen Norris, author of The Cloister Walk and Amazing Grace
"The love expressed in this book is what we human beings are here for."
- Jacob Needleman, author of Why Can't We Be Good? and Lost Christianity


"Lax emerges as a Gandalf-like figure who has found refuge off the shore of Middle Earth."
- Jim Forest, author of All Is Grace: A Biography of Dorothy Day and founder of the Orthodox Peace Fellowship

"Georgiou has painted a loving portrait of a remarkable human being. A doorway to a man who deserves much attention has been opened."
- Peter Maravelis, City Lights Books, San Francisco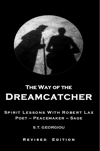 2nd Edition
In November of 2010, the revised edition of The Way of the Dreamcatcher was published (ISBN: 978-087243-273-4) by

Templegate Books
(1-800-367-4844).
Available for $16.95
To read an author interview on the new Dreamcatcher edition, click on the following link: Prodigal Kiwi
"A storehouse of treasure. Read this book, especially if you are a writer, poet, mentor, or spiritual director. Through this volume a rare soul continues to share his transcendent love."
- Paul Fromont, Prodigal Kiwi, New Zealand

"The Way of the Dreamcatcher presents Lax as a wise hermit, full of wisdom and aware of the immanence of God in all of creation. For all his chosen solitude, Lax's communion with (and deep love of) people is reinforced time and again, as is his submission to the Way of the Cross."
- Brent Aldrich, The Englewood Review of Books